Why Is Victoria Beckham Wearing Flats?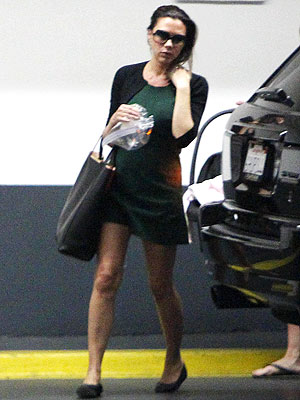 Fame
It's a photograph we never thought we'd see: fashion maven Victoria Beckham in flats. But it's happened; the star was spotted in Hollywood this week without her signature stilettos, opting instead for a pair of plain black flats.
Why the change? A rep for the designer had no comment, but a source confirms to PEOPLE that Beckham must wear flats as she recovers from a slipped disc in her back. So will she be back in heels in time for New York Fashion Week? Only time will tell.
"She'll have to see how she feels," the source tells PEOPLE. "Heels will put added pressure on the damaged area but it's healing well, so it may not be an issue in another couple weeks."
Regardless, Beckham still looks glam, and fans are wishing the new mom a speedy recovery. "Thank u for your kind messages," she said in reply on Twitter last week. "I'm feeling much better and enjoying every precious minute with baby Harper, I'm so in love. X VB."
–Kate Hogan, with reporting by Julie Jordan