DEAL OF THE DAY: 20% Off of Donni Charm Scarves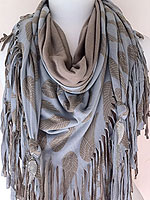 Inspired by the death of her father, Donny, Alyssa Wasko was moved to create personal pieces that took on a life of their own. From a small business into a thriving scarf and accessory line, which counts Jessica Biel and Jessica Alba among its many celeb fans, Donni Charms's stylish wares have been a stylish tribute to her dad that help the wearer feel "charmed" in her own way, courtesy of the angel wings and hearts tied to each scarf.
Different weights, patterns and shapes take the styles effortlessly through the seasons, and the classic look of each scarf ensures it will go with any outfit. Pick up a scarf like this "Karma" style, $80 with discount, by clicking here.