Will Kim Kardashian Wear a Gastineau 'Evil Eye' on Her Wedding Day?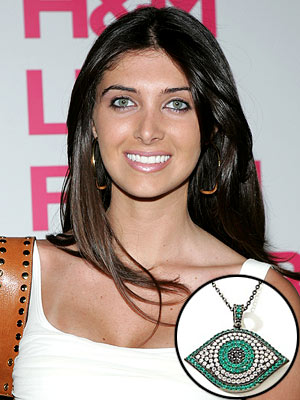 Courtesy HSN; Inset: Paul Hawthorne/Getty
Growing up, Brittny Gastineau admired her mother Lisa's jewelry, and her passion for shiny gems and stones. "My mom has been in the jewelry business her whole life. She knows every major diamond and who had them," the younger Gastineau tells PEOPLE. "That's her passion and her passion is coming down to me."
To celebrate their love of all things shimmery, the Gastineau Girls created Gastineau Glamour, a line of pendants, rings, bracelets and more that sells on HSN. Celebrities like Lindsay Lohan, Naomi Campbell and Maria Menounos love the line, which stands out with its heavy emphasis on "evil eye" pieces. "That's a reminder of positive energy," Gastineau says.
In fact, Gastineau plans to gift best friend Kim Kardashian with an evil eye for her wedding day. "I am going to give it to her as a surprise," Gastineau told PEOPLE in July. "It's a bridal pin, with diamonds. You put it under your wedding dress so you have all those eyes on you, and it's supposed to protect you from anyone wishing you not right or not well."
When it comes to her own pieces, though, the designer's personal favorites include the cigar band ring, which is "real jewelry," she says. "We use white topaz, real stone and only sterling silver, which is really expensive. This is not crappy jewelry — this is something you're going to have in your wardrobe forever."
Other preferred pieces include stackable bracelets — "they're in black rhodium finish to make them look hipper, edgier, chicer," she says — and big "door-knocker" earrings. "Those are my favorite … my red carpet go-to," she says. "I also put them on with a bathing suit to feel really glammed up."
But just like her celebrity fans, Gastineau never leaves home without her evil eye. "You can't mess with me," she jokes. But she's sure to mix and match it with other pieces, too. "I'm never wearing enough jewelry," she shares. "I'm always blinging myself out."
—Reporting by Vanessa Diaz and Suzanne Zuckerman