DEAL OF THE DAY: 15% Off at Calendars.com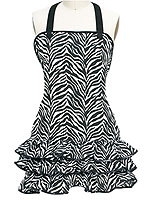 It's hard to start thinking about back-to-school, but Calendars.com has stepped in to make it easier for us. With a near-encyclopedic listing of any calendar you could ever want, plus adorable kitchen accessories, puzzles and other goodies galore, it's the perfect place to stock up for this season, the holiday season and beyond — at a discount!
Is it any surprise we're suckers for the fashion calendars, like this to-die-for "Shoes" collection? Start shopping with a discount (making this apron $22) by clicking here.