DEAL OF THE DAY: 20% Off of Franklin + Gower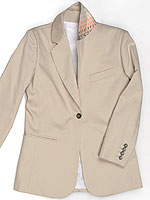 Treat yourself to some preppy-luxe basics with Franklin + Gower's cool and casual hot pants, shorts and blazers. Designed with the best fit and sleekest shapes in mind, their stylish country-club-ready apparel has thoughtful details like colorful printed piping and crisp seaming that keeps you looking your best even in the summer heat.
Start shopping their fab collection for items like this blazer, $276 with a discount, by clicking here.