DEAL OF THE DAY: 20% Off of Ocean Potion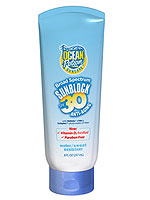 Fall may be just around the corner — but that summer sun is still hot as ever, so replenish your sunscreen stash for upcoming Labor Day trips (and for everyday use, of course — sunscreen is key to preventing skin cancer and fighting wrinkles!) by stocking up on Ocean Potion's fab formulas with our exclusive discount.
Get sunscreen, lip care, tanning oils and aloe for every stage of your sun goddess routine — for less! — by clicking here.