DEAL OF THE DAY: 25% Off of Balance by James Joseph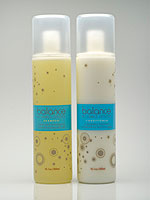 It's treat-yourself Thursday — so why not indulge in some luxurious haircare products and take care of those sun-damaged strands? William George, owner of Boston's chic James Joseph Salon, has launched a line of shampoos, conditioners and more designed to protect his clients' strands from damage, and it's all natural — no harsh sulfates, parabens or synthetic colors.
Give yourself an upscale salon experience at home with Balance by James Joseph shampoo and conditioner, $30 for the set with our discount, by clicking here.