DEAL OF THE DAY: 20% Off of HoodieBuddie Sweatshirts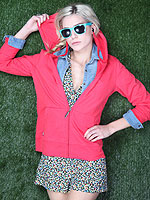 No longer will you have to get tangled in your headphone cords or worry about the headphone jack coming unplugged during a particularly enthusiastic dance move — HoodieBuddie sweatshirts have got the (ingenious) answer to a music lover's prayers. With the headphone jack safely in the pocket, and the earbuds attached to the hoodie's drawstring, you can listen to your MP3 player with no extra wires or dangling strings — it's super-smart and seamless.
From zip-ups to pullovers, stripes to solids, HoodieBuddie has also got you covered on the fashion side of things. Pick up the stylish solution to your music needs with our discount, making this hot pink hoodie $34, by clicking here.