DEAL OF THE DAY: 25% Off of Jenny Gaynor Jewelry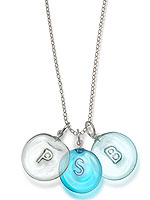 L.A.-based artist Jenny Gaynor's lovely, ethereal glass pieces have graced stars like Kendra Wilkinson and Jenna Fischer — but her stylish stuff doesn't stop there. Ornaments, vases and home décor round out her elegant, timeless glass art. For such delicate handmade pieces, they're surprisingly affordable, as in the case of these pretty "Unity" earrings, eye-catching "Stamp Initial" bracelet, or meaningful Hamsa necklace.
Add one of Gaynor's baubles to your jewelry collection (like these charms, $62 with discount, by clicking here).