DEAL OF THE DAY: 20% Off of Silent Gypsy Jewelry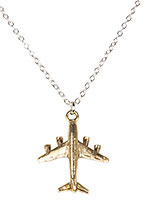 Hand-assembled and deeply personal-feeling, Silent Gypsy's elegantly funky pieces combine a refined sensibility with rugged, edgy components for a look you won't find anywhere else. Using found items, like recycled bullet cartridges and pendants from locales like Thailand, combined with rough-hewn original pieces, the N.Y.C.-based designer hand-assembles jewelry you'll love to wear — and that will say a lot about you in the process.
Pick up pieces like this "High" necklace, $34 with discount, by clicking here.