Check Out Lauren Conrad's Colorful New Hair!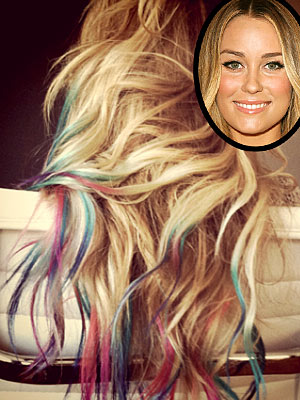 Courtesy The Beauty Department; Inset: Splash News
Just one month after Lauren Conrad went back to blonde, she's changing her hair color on us again. The former reality starlet added pink, purple, green and blue to the ends of her tresses over the weekend, sharing the results on her new style site, The Beauty Department. "You voted and I did it," she wrote to fans, referencing a poll she posted days before. "Thanks for playing." Conrad — whose fans voted 60 percent to 40 percent in favor of the new hues — did a similar poll when debating whether or not to go from brunette to blonde earlier this year. Though the change is a big departure from the newly single star's usual straight-and-narrow way of self-styling, we have to say her hair looks pretty cool! Tell us: What do you think of Conrad's latest hair update?