Kate and Pippa Middleton's Post-Wedding Looks: All the Details!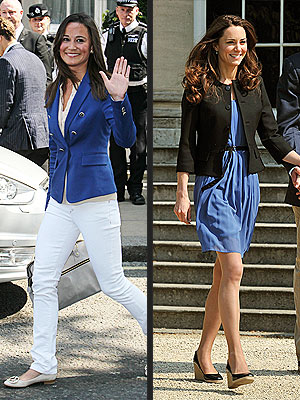 Bauer Griffin, John Stillwell/Getty
They may have worn custom Alexander McQueen the day of the royal wedding, but the morning after, both Kate Middleton and her sister, Pippa, had returned to their girl-next-door styles. Newlywed Kate, who strolled the palace grounds with her husband, looked effortlessly chic Saturday morning in a black blazer, Greta wedges by L.K. Bennett (to be re-released as the Kate wedge for $265 in June) and a blue pleated dress by Zara, just $90. And great minds must think alike: Pippa was spotted out in London, too, sporting crisp white pants, cute nude flats and a bright blue tailored blazer, $100, also by Zara. The girls are famous for their sensible style; just days before the wedding, they did some shopping in London, where Kate picked up a variety of reasonably priced dresses and cardigans from stores like Warehouse and Banana Republic, presumably for her honeymoon. The Duchess is also known for her sensible shoes — pumps by British fashion house L.K. Bennett are a fave — and the accessibility of her everyday outfits. We can't wait to see (and buy!) what the girls wear next.