Jennifer Lopez's Glam Cover Look: All the Details!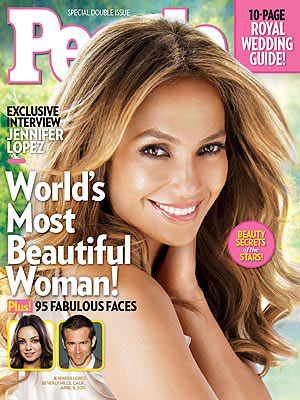 Jennifer Lopez may love being makeup-free at home with her twins, but for her flawless appearance as PEOPLE's 2011 World's Most Beautiful cover girl, she had a little help from her glam squad. Makeup artist Mary Phillips began with moisturizer, then applied foundation with a blush brush "all over her face and neck, including on her eyelids." She followed that with peach cream blush, "beginning on the apple using less product as you go back." She set the look with a yellow-based powder. Phillips lined Lopez's eyes in brown, "rimming the whole eye, all the way around." After applying creamy shadow with a hint of shimmer all over the lid with a touch of espresso color in the crease, she curled Lopez's lashes and used mascara on both the top and bottom lashes. On her lips, a nude pink lip liner was topped with a peach lipstick followed by clear gloss. As for her famously lush locks, stylist Lorenzo Martin started with freshly shampooed hair, applied a styling serum and blew it dry "with lots of volume, toward the back." Then he curled big sections with a 2-in. curling iron, pinned them back, and set them with hairspray. After 20 minutes, he pulled the pins out, and, he says, "put her hair upside down and brushed it with a boar-bristle brush. Then I flipped it back, teased it and back-brushed it, then tousled it again to get gorgeous waves." For more of Lopez's exclusive interview, in which she sets the record straight on all the rumors, pick up this week's special issue of PEOPLE, on newsstands Friday. –Reporting by Julie Jordan

GET A SNEAK PEEK AT WHO ELSE IS THIS YEAR'S MOST BEAUTIFUL!