Fashion's Night Out Returns — and E-Commerce Joins the Fun!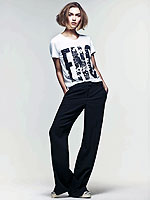 Arizona Muse, photo by Craig McDean
Stars like Victoria Beckham, Ashley and Mary-Kate Olsen, Sarah Jessica Parker and more have turned the last two years of Fashion's Night Out into a mega-party in cities like N.Y.C. and L.A. But if you can't get to the big bashes this year on September 8, you can still join in the fun at home! Online retailers are now invited to create their own virtual events, along with selling limited edition merchandise, from $15-$50, to mark the night. So, start stashing money in your virtual or real piggy bank for September 8! Find out more (and register as a retailer as of today) at fashionsnightout.com.