Vanessa Hudgens Pairs Socks With Sandals: Would You Wear It?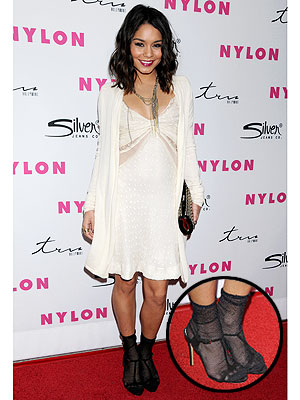 Gilbert Flores/Celebrity Photo; Inset: Michael Tra
Was it a fashion-forward move, or a fashion faux pas? Vanessa Hudgens stepped out at a Nylon magazine party in Los Angeles Thursday night sporting a semi-1990s style: a babydoll dress topped with a cute cardigan. But what really caught our eye were her sheer black socks, which were tucked oh-so-subtly into her strappy Pollini sandals. Before you knock the Sucker Punch star's look, know that she's actually working a runway trend: designers at Burberry and Christian Dior sent models down the catwalk last fall in socks paired with peep-toed shoes. Still, it's hard to say if the real world is ready for such a change from the norm. We want to know what you think! Tell us: Would you wear socks with strappy sandals, like Hudgens?
VOTE ON MORE STAR STYLE IN 'LAST NIGHT'S LOOK: HIT OR MISS?'