VIDEO: Mulberry Throws a Star-Studded (and Very British) Fashion Show!
Could dogs be the must-have of the spring 2012 season? On the heels of Isaac Mizrahi's dyed poodles, Mulberry models hit the runway with schnauzers! "The moment I saw them, I couldn't stop laughing!," first-row attendee Kirsten Dunst told PEOPLE. Other highlights for her? "I loved the colors, the flowy dresses and skirts." Designer Emma Hill said her starting point for the collection came from Roald Dahl's fairytale The Fantastic Mr. Fox, but she's been inspired by another famous Brit recently: Kate Middleton, who has been spotted with a Mulberry clutch. "She is like an ambassador for Britain, and I think it is amazing to see that," Hill said. "It was genuine that she liked it." Any chance of the princess-to-be getting a namesake bag, like fellow English style icon Alexa Chung? "You will have to wait and see!" Hill teased. "We're not much for naming things after people…but never say never!" — reporting by Dimi Gaidatzi
SEE ALL THE STARS AT LONDON FASHION WEEK HERE!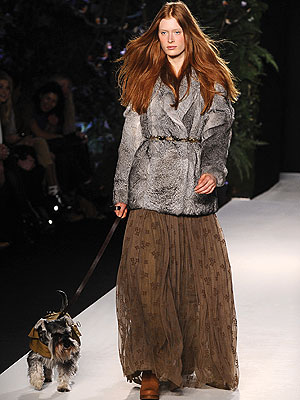 Carl De Souza/Getty