Three Dresses, One Day: Which of Katy Perry's Purple Sparklers is Your Favorite?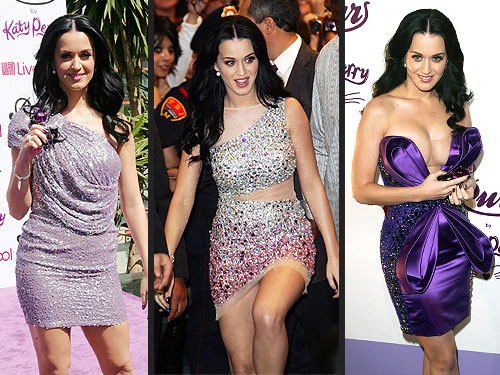 Ramey (3)
Talk about "Fireworks"! Katy Perry created a purple reign while launching her new perfume in Mexico City. First, she attended Purr's press conference in a lilac sequined one-shoulder Nikolaki mini with draping at the bodice. She then headed over to Perisur Mall, where she greeted more than ten thousand fans in another high-shine confetti look with sheer paneling at the waist and shoulder. The grand finale came when the 26-year-old performer graced the launch party's purple carpet wearing a racy, plunging Georges Hobeika Couture jewel-tone frock with even more sparkle! It's not the first time Katy Perry's had to play outfit mixmaster in one day. Last summer, she donned three unique dresses while promoting her new album in New York. Perry's never short on daring when it comes to her wardrobe picks, but we want to know what you think. Tell us: Which of Katy's three dresses was most Purr-fect? – Hana Choi
CHECK OUT MORE STAR STYLE IN LAST NIGHT'S LOOK: HIT OR MISS?