Gisele Bündchen's New Balenciaga Ads Revealed!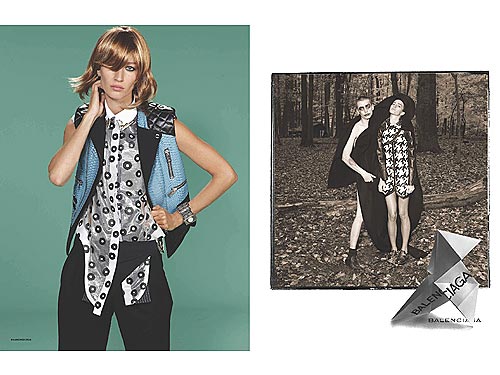 Steven Meisel
Just as we've finally made peace with her impossibly long legs and perfect beach-tousled waves, Gisele Bündchen premieres a brand new look that has us clamoring for a page-boy cut and motorcycle vest! Appearing in Balenciaga's spring/summer 2011 ad campaign (photographed by Steven Meisel) in a look pulled from the Parisian catwalk, Gisele is a far cry from her usual sun-drenched siren. "It's a reaction to a certain kind of sexiness," designer Nicolas Ghesquière told Style.com of his latest collection. "It's about individuality." And the veteran model, who walked the runway for the brand alongside superstars including Amber Valletta and Miranda Kerr, taps into the season's androgynous trend in a plasticized blouse, chambray and leather topper and relaxed slacks, however we're most shocked about her masculine disguise in the black-and-white image above. Also striking? Gisele's new 'do—a gleaming, stripey page-boy cut, which she juxtaposes with a smoldering gaze. And while we pretty much like anything the Brazilian bombshell does, we're not sure how we feel about this new rough and tumble Gisele. Tell us: What do you think of Gisele's Balenciaga ads? Do you love them or hate them?–Justine Harman
VOTE ON ALL THE STARS' LATEST STYLES IN LAST NIGHT'S LOOK: HIT OR MISS?