PHOTO: Lady Gaga's Most Outrageous Outfits of 2010 as Modeled by Barbie!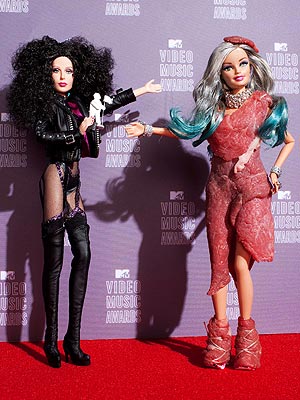 Matthias Clamer for EW
Turns out that it is a Barbie world for one pop star! The masterminds at Entertainment Weekly have immortalized some of Lady Gaga's most jaw-dropping moments from this year by putting to task the original supermodel–Barbie! From the pop star's iconic meat dress at this year's MTV Video Music Awards (with matching meat booties tied with dental floss, of course) to her jailbird ensemble from the "Telephone" video, Gaga's most outrageous outfits of 2010 have been re-created with painstaking accuracy. To check out the unbelievable photos and to find out how the stylists made a pint-sized version of the hair dress Gaga wore for a performance at the Oak Room in N.Y.C., visit EW.com. For additional details and insider tips on Barbie's photo session, shot by Matthias Clamer, pick up the 2010 Entertainers of the Year issue of Entertainment Weekly, on newsstands now. –Justine Harman
VOTE ON ALL THE STARS' STYLES IN LAST NIGHT'S LOOK: HIT OR MISS?