Gaga's VMA Dress: It's Real Meat!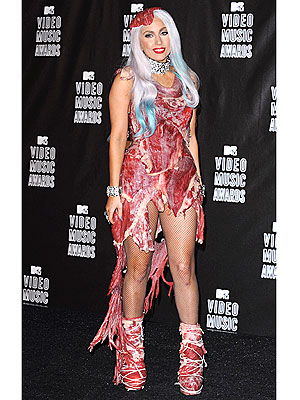 Landov
She's a meat-loving little monster! Lady Gaga may have worn three over-the-top outfits at Sunday's Video Music Awards, but it was her third and final dress—made out of real meat and designed by Franc Fernandez–that got butchered the most. Gaga sat down with Ellen DeGeneres for the season 8 premiere of The Ellen DeGeneres Show on Monday to explain the controversial creation: "Well, it's certainly no disrespect to anyone that is vegan or vegetarian. I, as you know, am the most judgment-free human being on the earth," Gaga told Ellen. "However, it has many interpretations, but for me this evening, if we don't stand up for what we believe in, if we don't fight for our rights, pretty soon we're going to have as much rights as the meat on our bones," said the songstress, who then held up the recent Vogue Japan cover on which she wore a meat bikini. "And I am not a piece of meat!" Up next for Gaga? Possibly the vegetarian-friendly bikini designed by Ellen Degeneres. Check it out in this video clip below. Tell us: What do you think of Lady Gaga's meaty fashions? –Jessie Goldberg
Vodpod videos no longer available.