Blake Lively's Newest Accolade: A Christian Louboutin Named in Her Honor!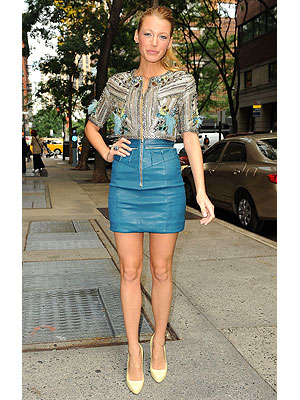 Humberto Carreno/Startraks
Take it from Blake Lively — when in Paris, work hard and play hard! While shooting the opening episodes of the fourth season of Gossip Girl, she took time out of her busy schedule to cruise the City of Lights on a scooter with a very handsome gentleman — shoe designer-to-the-stars Christian Louboutin! Blake experienced love-at-first-sight with one of Christian's creations while touring the designer's atelier — who wouldn't? — and the designer returned the love by naming it after the blonde beauty! "I want to sleep with it under my pillow every night," Blake gushed over the shoe. His response? "We're naming it the Blake." And although the actress spent plenty of time with fashion royalty during her time in Paris, attending couture shows with Anna Wintour and dining with Karl Lagerfeld and John Galliano, Blake says of her Louboutin moment, "That was insane, it's like my greatest accomplishment." Watch the actress–clad in a sparkly Matthew Williamson jacket and blue leather skirt–talk shoes and more while appearing on Live With Regis and Kelly Tuesday morning.