Vanessa Hudgens and Hayden Panettiere Hit the Beach -- For Charity!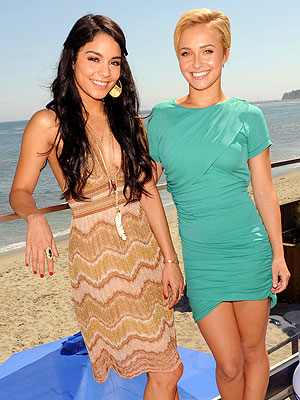 Albert Michael/Startraks
When Vanessa Hudgens and Hayden Panettiere hit the beach yesterday in L.A., it wasn't just to soak up the rays. The two beautiful actresses (and Neutrogena brand ambassadors ) joined forces to announce the new Neutrogena Wave for Change campaign, a charitable initiative that lets teens help the company decide how to distribute up to $200,000 from sales of the Wave Sonic Power-Cleaner and Oil-Free Acne Wash Pink Grapefruit product sold for disaster relief, education and environmental causes through GlobalGiving. Through August 23, visitors to the Neutrogena Facebook page can take a quiz to see which cause they'd like to support, which will help determine where funding eventually goes. "Often people want to participate, but they don't know how so the fact Neutrogena is opening the door and kids are getting to be a part of something and help the world is an amazing thing to be a part of," says Panettiere. Hudgens seconds the feeling, telling PEOPLE that "It's so cool that Neutrogena is letting the fans go to Neutrogena's Facebook page to take a quiz to determine how the money raised for charity is being distributed. By taking a few minutes to join in, everyone can make a big difference in the world." Go to Facebook.com/Neutrogena to take the quiz today!