What Should Snooki Wear to the MTV Video Music Awards? You Decide!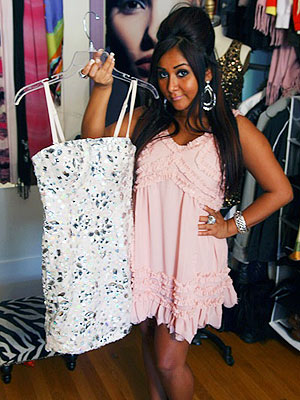 Courtesy MTV
Nicole "Snooki" Polizzi might be rethinking her signature guidette style for Sunday night's MTV Movie Awards. "I have to step my game up for the awards," Snooki tells PEOPLE. "I have two styles: Guidette style is more like a leopard print, animal print and [Snooki] style is more like bling bling—so I definitely want to bring that out on the red carpet." MTV followed the Jersey Shore star while she tried on four "Snooki style" dresses including a pink sparkly number, a clingy gold tube dress, a black paillette sheath and a silver glittered D&G mini (above). Her favorite so far? The sparkly white D&G one! "I just love all the bling on it," gushes Snooki. "I like to sparkle so people see me like miles away. I like to be different—like Lady Gaga." Her guidette style isn't the only thing Snooki is trading in come Sunday: "I'm not going to wear the bump. I'm going to do big curly hair," she reveals. "I feel like the bump is more for partying." And while we'll miss Snooki's infamous bump we can't wait to see the reality star's final look. Visit mtv.com to see Snooki's options and see what she has to say about each in the video below. Tell us: Which dress would you like to see Snooki rock to the MTV Video Music Awards on Sunday? Vote below!–Andrea DeSimone; reporting by Abby Stern
Vodpod videos no longer available.