Patricia Field on 'Sex and the City 2' Style: "Hollywood Glamour Meets Aladdin"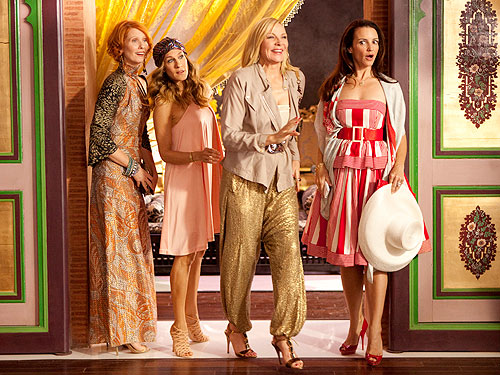 New Line Cinema
Asking Sex and the City 2 wonder-stylist Patricia Field to choose her favorite look from the latest film seems to be akin to asking a mother to pick a favorite child. "They're all so pretty, I really can't," she admitted to PEOPLE at Monday night's world premiere at New York's Radio City Music Hall. "I love the way everything looks in this movie." And while she stayed true to the unique style of each of the characters, she did use the foursome's trip to the Middle East as a chance to mix things up. "I changed as they got to the Middle East on this fabulous vacation and packed a little bit of clothes because they are guests of a Sheikh and living in a palace with butlers, and limos, and private planes," she explains. "Lots of diaphanous chiffons, color, long, moving, very Hollywood glamour meets Aladdin!" As for the ladies who want a chance at Carrie Bradshaw's enviable attire, the pro offers some words of style-wisdom: "Carrie is great, but Carrie is just an example of how you can have your own style. Think of who you are and what you want to look like and things that you like and don't be afraid. Follow your heart, follow your art, don't look around, and don't worry about it." Tutu, anyone? –Shruti Dhalwala
SJP and SATC costume designer Patricia Field share the stories behind Carrie's iconic looks on EW.com!