SNEAK PEEK: Alicia Keys' Giorgio Armani Concert Costumes!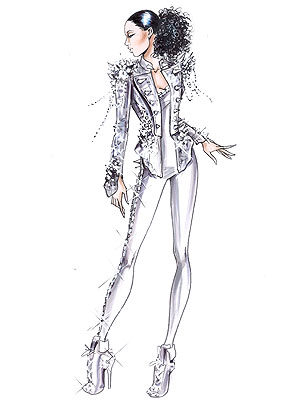 Courtesy Giorgio Armani
Look out Lady Gaga, there's another musician rocking out in custom-made Giorgio Armani outfits—Alicia Keys! The soulful songstress, who was dressed in head-to-toe Armani for her 2008 As I Am tour, will rock four dazzling, one-of-a-kind costumes from the Italian designer for her current tour, The Element of Freedom. The first look, a sparkling crocodile-printed military jacket, features crystals and sequins, and is paired with silk leggings and tone-on-tone Swarovski crystals. Other highlights include a one-shoulder silk top with embroidery detailing and crystal-encrusted leather boots. A sexy one-shouldered silk chiffon gown in dark gray–paired with black sandals–completes the third look, while a flirty mini-dress with strong shoulders and cascade ruffles finishes off the assortment. With so many daring looks for her latest tour, we cannot wait to see Alicia work them in concert! For more information on her tour dates, check out AliciaKeys.com. Tell us: Which of the four custom-made Armani costumes is your favorite?—David Yi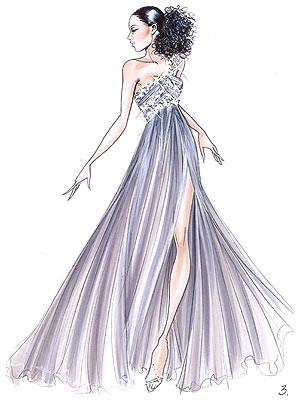 Courtesy Giorgio Armani
SEE TWO MORE OF ALICIA'S COSTUMES!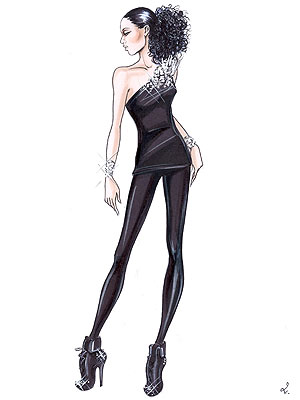 Courtesy Giorgio Armani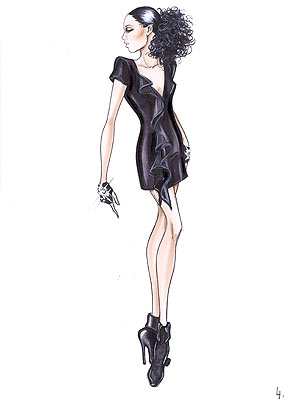 Courtesy Giorgio Armani