Valerie Bertinelli's Boston Marathon Prep? A Food-Filled Italian Vacation!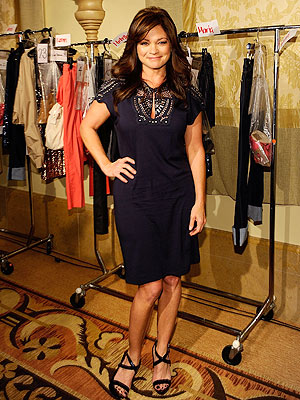 Charley Gallay/WireImage
Packing for a recent Italian getaway with her longtime boyfriend Tom Vitale, Valerie Bertinelli knew one travel essential she had to have — her scale! "Yes, I brought my Jenny Craig scale with me!" says Bertinelli, who famously lost 40 pounds on the weight loss system. "I wanted to keep an eye on [my weight]. I said to myself, 'Eat, have fun–and move your body!'" She needn't have worried. Even after eating (pasta daily and, yum, all those oysters!) and drinking (red wine) her way through Rome, Florence, and Venice earlier this month, the 49-year-old actress only put on 3.4 lbs. "I ate everything I wanted to and forgave myself," she told PEOPLE at the Cedars-Sinai Sports Spectacular Women's Luncheon featuring a Tory Burch spring collection fashion show on Tuesday, "and 3.4 lbs. is all I gained! I can take that off!" The trick? Walking. A whole lot of it. In fact, Vitale and Bertinelli, who is training for her first marathon on April 19, clocked in a whopping 85 miles over their 10-day vacation. Always wearing a Bodybugg device to keep track of her steps, Bertinelli says: "The smallest number of steps we took in a day was 11,000. We never caught a cab."
Even so, the indulgent Italian sojourn "didn't really prepare me for the marathon," admits Bertinelli, who turns 50 just four days after the 26.2 mile run, so it's back to the grind. With less than a month to go, Bertinelli says, "I know my body can do this. I ran 14 1/2 miles before I left for Italy, and wasn't sore the next day. So I'm just worried about the emotional part. I can't let my brain remind me that I'm almost 50, not an athlete, and have never done this before. I have to get all that craziness out of my brain!" While she's shooting to complete the race in under five hours, Bertinelli reminds herself, "I just need to finish. There are so many people depending on me, but I feel their love and their 'You go, girl' attitude. I don't want to let them down!"
READ MORE BY CLICKING THROUGH!
Once the marathon is under her belt, Bertinelli has even bigger plans: to continue to use her celebrity and her role as Jenny Craig spokesperson to support charitable, health-related causes. At the top of the list is Sports Spectacular, an annual event which benefits the Cedar-Sinai Medical Genetics Institute and supports the research and treatment of genetic birth defects. "It feels good to be a part of something where I can help other people and [focus on] how weight loss affects your health and any pre-existing conditions you might have," she told PEOPLE after hosting the Sports Spectacular Women's Luncheon. "I want to use this gift that's been given to me to help people. It's not just about, 'Oh, look at me, I got into a bikini!' I mean, that's terrific, but for me, [it] was more about setting a goal and reaching it. It was about saying, 'Wow, I can't believe I did it, everybody can do it, and let's see what else we can do?!'" But first things first. Next up is the marathon, then her birthday on April 23rd. So how will she spend the big 5-0? That's easy, says Bertinelli: "I'll be in an ice bath!" To find out more about Sports Spectacular and the Cedars-Sinai Medical Genetics Institute, go to sportsspectacular.com. –Elizabeth Leonard