Carey Mulligan's Oscar Gown Tease: "Kind of Crazy But Classic"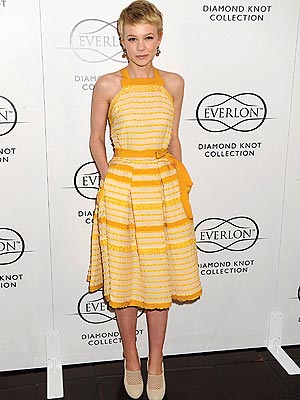 INF
With all eyes on stylish first-time nominee Carey Mulligan tomorrow night, the pressure is on for the British star to pick just the right dress. And even with advice from the likes of Anna Wintour, Mulligan still hadn't found her dress as of a few weeks ago. But when we spoke with the star at a Diamond Information Center luncheon in her honor on Friday in Los Angeles, Mulligan confirmed that she has indeed found her perfect gown. "It's kind of long. It's crazy. But it is kind of crazy but classic at the same time," Mulligan tells PEOPLE. "It sort of fulfills all my 12 [year-old] girlie dreams about wearing the classic dress. But it's got a twist!" Sporting Everlon knot diamond earrings by Fred Leighton with her Bottega Veneta dress, Mulligan teases, "I will be rocking some diamonds." But lest we all get visions of over-the-top bling in our heads, she clarifies that her picks are "not crazy. Nothing that I would worry too much about losing. I think that's the key." We can't wait to see the whole look tomorrow night! –reporting by Jessica Wedemeyer
JOIN US FOR A LIVE BLOG ON ALL THE DRESSES, SPEECHES, WINNERS AND MORE TOMORROW NIGHT AT 6 PM EST!