Prada's Runway Surprise -- Victoria's Secret Angels!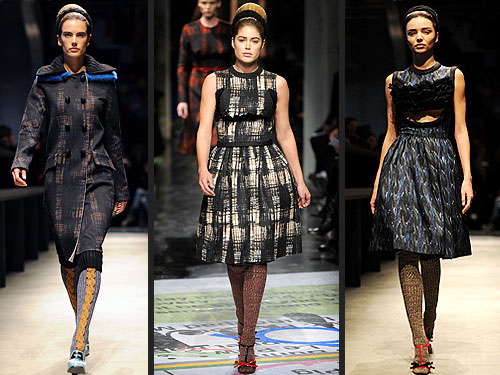 Christophe Simon/AFP/Getty; Gruber/FWD; Christophet
While Victoria's Secret Angels Alessandra Abrossio, Doutzen Kroes and Miranda Kerr are well-known for strutting in the brand's famous fashion show wearing nothing but skimpy, skin-baring lingerie, the sexy models got modest makeovers for Prada's Fall 2010 fashion show in Milan on Thursday. With the trio clad in demure knee-length dresses and heavy wool stockings that, at first glance, downplay their signature knockout curves, head designer Miuccia Prada tells The New York Times that the models were, in fact, deliberately cast for their famous figures: "It's normal clothes–the silhouette of the '90s, but using many different kinds of models who are much more womanly." And indeed, closer inspection of the garments reveals tight bodices and carefully placed darts to accentuate an unabashedly feminine silhouette. Kroes, acknowledging an ongoing debate within the fashion industry over runway models' super-slim frames, tells PEOPLE that "after being a part of the CFDA panel discussion about the model weight issue, I'm so happy to have walked in the Prada show seeing a change in more healthy looking women on the runway."
SEE ALL THE STARS AND THE BEST OF THE RUNWAY AT NEW YORK FASHION WEEK HERE!