VOTE: Which is Lady Gaga's Most Outrageous Mask?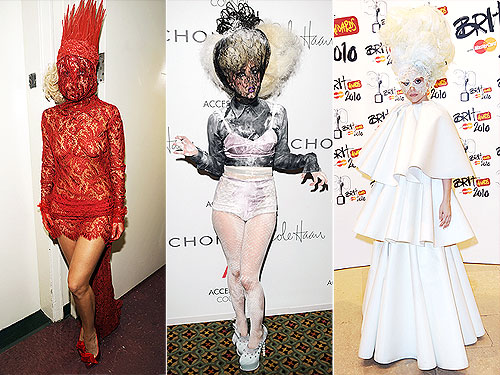 Frank Micelotta/PictureGroup; Peter Kramer/AP; Richard Young/Startraks
The ever-shocking Lady Gaga may have left most of us in awe when she sported a white three-tiered gown topped with a towering cotton candy wig at the Brit Awards tonight, but we weren't too surprised by her choice of a face mask. After all, the lacy veil look has become one of the fearless chanteuse's signatures. The always avant-garde Gaga first raised eyebrows from this visage-obscuring style when she debuted a blood-red lace Alexander McQueen archive dress with a matching headdress and veil at the MTV Video Music Awards. Then, at the 13th Annual ACE awards in November, the Mother of Monsters showed off a similar veil lace headpiece–this time in black to match her Marc Jacobs outfit — when she appropriately accepted the Accessory Council's Stylemaker award. And now at the Brit Awards, she's at it again, sporting a Phillip Treacy mask. With so many face-shielding outfits, we want to know which of Lady Gaga's veiled looks you liked best–vote for them below!