Sneak Peek: Kardashian Sisters' Upcoming Jewelry Line for Virgin Saints and Angels!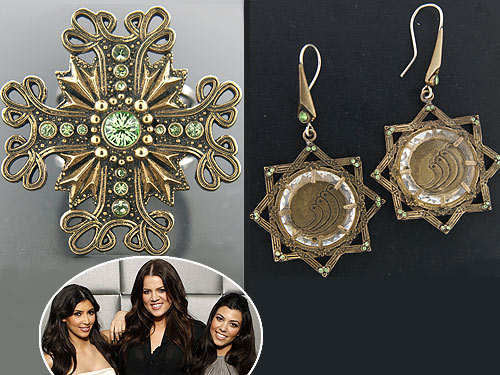 Virgins Saints and Angels; Matt Sayles/AP
It's a Kardashian style takeover! With their clothing line for bebe set to hit stores in two days, the Kardashian sisters aren't letting you forget about their other soon-to-launch fashion project: an Armenian-inspired jewelry line for L.A.-based brand Virgin Saints and Angels. Though the baubles won't hit stores until April, Khloe Kardashian is already offering up a sneak peek. Taking to her official website she writes, "Well I'm very excited to finally be able to share some of the fab pieces from the collection with you. The design was inspired by our Armenian heritage and there's a great deal of symbolism behind each piece. We've all worked very hard on this project and my sisters and I are absolutely thrilled with the way the line turned out! I can't wait to hear what you guys think and which are your favorite pieces." We have our eyes on the cross ring and star earrings (above), and with prices starting at $300, we are already starting to save. Tell us: What do you think of Kim, Khloe and Kourtney's jewelry for Virgin Saints and Angels? Will you buy it?