Emily Blunt's Golden Globe Dress Dilemma: Safe or Brave?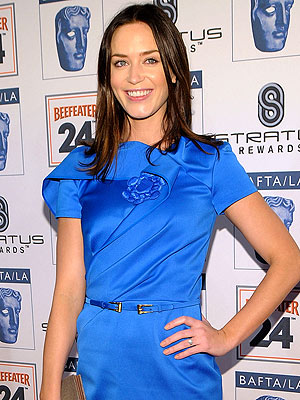 Michael Tullberg/Getty
Emily Blunt may be a buttoned-up Queen Victoria on screen, but she is a true Hollywood siren when she hits the red carpet, as evidenced by her glamorous appearance at yesterday's BAFTA/LA Awards Season Tea Party. Clad in a sexy cobalt blue Carolina Herrera sheath, Blunt dished to PEOPLE on her Golden Globe Awards plans, including with a luxurious start to her day. "I'm going to lie in and have a long lie, and I'm going to stay in bed until about twelve. I like it for people to come over early, like hair and makeup, and just start early. And lots of coffee, lots of croissants. That kind of thing." But just because she knows how her day is going to start, doesn't mean she knows exactly which gown she'll be wearing. She teases, "It's a toss-up right now. I'm going to surprise you." As for how she decides between her two options ("a brave one and a safe one"), she explains "I think you try it on, you ask different opinions, people that you trust. It also depends if I'm interesting and brave or not that day." One person in her life who won't tell her what to wear is her fiancé John Krasinski, whom she says is "very good. He always lets me have my own [opinion]." We're sure both options will look amazing! Make sure to check back on PEOPLE.com starting at 6 pm tonight for all the Golden Globe Awards coverage, including a live chat. –reporting by Scott Huver
Can't wait to see what Emily wears to the Golden Globe Awards tonight? Vote now on our picks for her and more stars!