Kelly Ripa Gets a Wedding Dress Courtesy of "Project Runway" Winner Irina!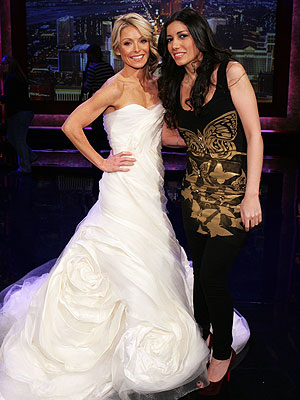 Disney ABC Domestic Television
Just when Project Runway winner Irina Shabayeva thought the challenges were over, she got a new one from Regis and Kelly! The New York designer helped the show pay homage to Las Vegas when she designed a stunning wedding gown for Kelly, who never got the chance to wear one when she eloped there with husband Mark Consuelos. The designer took Kelly's bubbly personality and the over-the-top feeling of Vegas into consideration to design the elaborate gown. Watch the clip below to see Kelly modeling the gown and praising Irina as "the most inspired designer" on yesterday's Live with Regis and Kelly. Project Runway returns to Lifetime on January 14!