EXCLUSIVE: Tony Romo Takes the Field (and Your TV!) for Starter
Tony Romo won't just be the focus on the field as the Dallas Cowboys take on the Oakland Raiders on Thanksgiving day. The sexy quarterback's adorable smile will also be appearing in television commercials for Starter for the first time, as part of his multi-year endorsement deal with the apparel company to star in commercials, print, online and outdoor billboard ads for the brand. Shot in Los Angeles by famed director Dave Meyers, Tony Romo switches his Cowboys' uniform for bold Starter apparel as he literally overcomes obstacles on the field. But you don't have to wait until Thanksgiving day to see Tony Romo in action — check out Starter's new commercial and ad now! Tell us: What do you think of Tony Romo's Starter commercial and ad?
CLICK THROUGH TO TONY ROMO'S STARTER AD!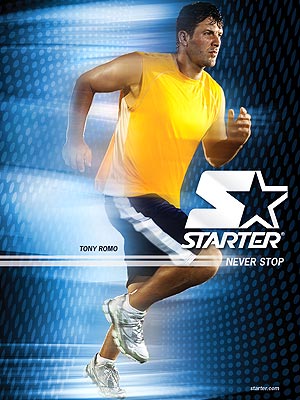 Courtesy Starter