Alessandra Ambrosio's Victoria's Secret Fashion Show Diary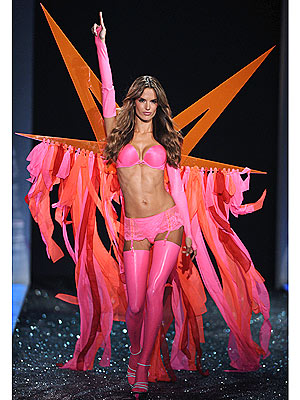 Axelle Woussen/Bauer Griffin
For one week a year, Victoria's Secret Angel Alessandra Ambrosio, 28, says things get so crazy and hectic, "I just have to find power from somewhere else to keep going!" she laughs. That week, of course, is leading up to the Victoria's Secret Fashion Show, which took place in N.Y.C. on Nov 19 and will air on CBS at 10pm on Dec. 1. Here's how the Angel, and mom of 1-year-old Anja (who stayed at home in Brazil with Grandma) made it through.
Saturday, Nov. 14: Fly in from Brazil for my fitting. It's a big deal to do the fitting. They had all the cameras there. Glad I rested up in Brazil. Now the craziness begins!
Monday, Nov. 16: Shooting a VS campaign today while I'm here. This whole time I am trying to find time to work out because we're shooting ALL day. At 7, my trainer comes over and we work out for an hour. It's mostly butt and abs and arms. Last year I had to lose 40 lbs. after having my daughter. This year I am 2 lbs less than usual so I am not freaking out…Still, one week before the show is when I get worried!
Tuesday, Nov. 17: Lots of filming today! I had to do my second fitting and I had to do a biography with VS , which we filmed all over New York. It took so long, I didn't get to work out!
Wednesday, Nov. 18: In Times Square to promote the show, then we have to go and rehearse. The rehearsal will finish so late, and I really want to work out the night before the show, so I might not be able to get a massage, like I wanted.
Thursday, Nov. 19, 8 am: The show is today! Running late to hair and makeup. Oops. I'm opening the show, so obviously I'm more nervous than anyone else. It's a big responsibility. I can't even eat breakfast. Just coffee.
11 am: So many interviews!
4 pm: We tape two shows, so the first one starts now. Walking down the runway, I went on autopilot and blacked out. I don't even remember what I did. I was just trying to be sexy and fun.
5 pm: Break between shows. I'm hungry! I'm going straight for the catering table.
8 pm: Second show. I didn't fall in the first one, so I'm not so nervous now. Even if I trip they have one good take! The Black Eyed Peas sing while I'm wearing this bright neon outfit. And the wings are on the arms, so it doesn't even hide anything!
10 pm: Done for the day! I got a Valentino Couture dress to wear and amazing diamonds from Ivanka Trump. Heading over to the afterparty at M2 in NYC.
1 am: Now I'm really hungry! Grabbing cheeseburgers at Cafeteria with my friends.
–reported by Charlotte Triggs