VOTE: Which was Carrie Underwood's Best CMA Style?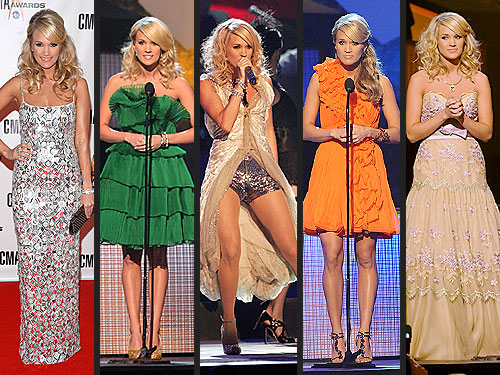 AP, Getty, Wireimage, Getty (2)
Carrie Underwood kicked off tonight's CMA Awards red carpet in a glittering Theia siren gown that shouted sex appeal. But the show's host was quick to reveal, "I'm not going to keep this one on all night!" She explained, "I'm supposed to have nine [costume changes] during the show." And did she ever! From the frothy green Ina Soltani stunner to silver sequined short-shorts ensemble by Roberto de Villacis, a ruffled-up orange Ina Soltani stunner and purple floral embroidered confection, the looks just kept on coming all evening long. Tell us: Which of our favorite five of her looks is your favorite of the night?