Heidi Klum's Tips on Dressing Up for Halloween: "Really Go For It!"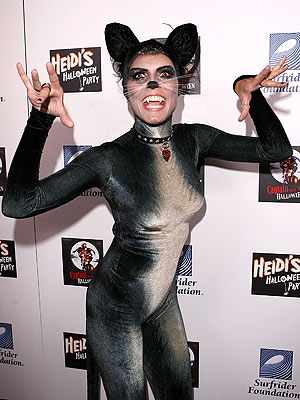 Jesse Grant/WireImage
The supermodel has become known for her outrageous costumes and over-the-top annual Halloween bash, and now, Heidi Klum wants to help you get your costume ready. Heidi gives MSN.com the inside scoop on how to get sexy — and scary — for Halloween. For Heidi, the best Halloween costumes are the ones you can make yourself, counting Sexy Cat, Bumble Bee and Bride of Frankenstein among her favorites. "The amazing thing about creating your own costume is that you can be sure no one else has the same!" Heidi tells MSN.com. Heidi suggests that all you need is a leotard and fabric paint to make your own cat costume. "Buy a dog collar with a tag and put a fun message on it," says Heidi, who wore a collar that read "If lost, please return to Seal," when she was a cat in 2007. For a Bumble Bee costume, Heidi recommends pairing a black and yellow striped top with hot pants and tights. "Since you're wearing tights, it's okay to go super short on the hot pants! Add some super high heels," Heidi instructs. Check out all ten of Heidi's DIY Halloween costume ideas, including tips on how to be a Vampire, Angel, Wonder Woman and more at MSN.com. And be sure to check out all Heidi's outrageous Halloween costumes here.