Go Behind the Scenes (And In Bed!) with Jason Lewis on His Charisma Photo Shoot
Jason Lewis garnered quite a following for his charm and sex appeal as boy toy Smith Jerrod on Sex and the City. So what could be better than finding the hunky actor in bed with Charisma's latest line of linens in a set of sexy ads? We'll leave that as a rhetorical question, but Jason does tell us why he has joined forces with Charisma, explaining that "Your bed should be an inviting place to get into, and Charisma can add luxury to your lifestyle and bedroom." Watch as the shirtless actor lounges in a pristine white bed covered in Charisma linens and talks about his bedroom philosophy in this behind-the-scenes video from his photo shoot, shot by famed photographer Nino Munoz in Los Angeles. Jason's ads will hit shelter and lifestyle magazines come December, and Charisma products can already be found in Bloomingale's stores nationwide. Tell us: What do you think of Jason's Charisma ads?
CLICK HERE TO SEE JASON LEWIS'S CHARISMA AD!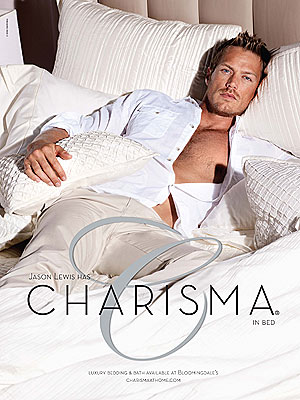 Courtesy Charisma