Zac Posen Gets Cooking -- Off the Runway!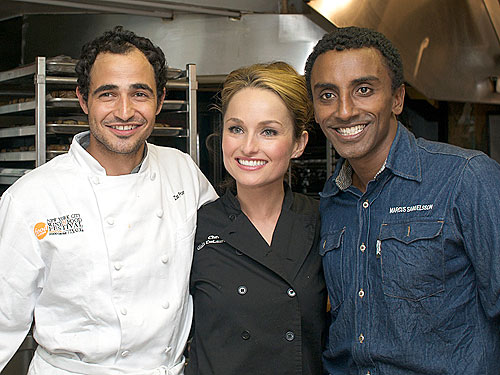 Philip Gross for the James Beard Foundation
Zac Posen is showing off his latest work, a vision of delicate purples and greens, but the star-favorite designer isn't at a runway show. He's behind the stove in New York's James Beard House, helping prepare dinner for 100. And this new creation? A platter of purple Peruvian potatoes topped with caviar and garnished with chives and purple borage flowers. "Borage is decoration, but it has a flavor," says Posen. "I go by taste, not color." An enthusiastic foodie since he was a teen, Posen says he used to cook for small groups of fashion editors. "I thought it was important to feed them and bring them together as a community." But this weekend Posen, 28, was in the culinary big league, sharing KP duties with Food Network star Giada De Laurentiis and award-winning Aquavit chef Marcus Samuelsson, a long-time friend of Posen's who says, "Zac is great in the kitchen." The three, along with a team of sous-chefs, are at this culinary landmark to turn out a four-course dinner featuring Zac's fennel and crayfish bisque, Marcus's slow-cooked chicken with foie gras and pumpkin puree, Giada's eggplant timbale, and a dessert of poached pears and ginger ice cream — a Giada-Zac collaboration. "I'd met him before, but I didn't know he loved to cook," says De Laurentiis. "I'm impressed he's executed it all! It's different doing a dinner party than dinner for 100 people." The designer, who shrugs off the title "chef" in favor of "food lover" says the bustle of the kitchen isn't so different from that of a fashion house: "It's the super-speed atelier." Proceeds from the dinner, part of the New York City Wine and Food Festival, go to benefit two anti-hunger charities: Share Our Strength and the Food Bank for New York City. –Allison Adato

WATCH ZAC, GIADA AND MARCUS AT WORK IN THE KITCHEN!