Lindsay Lohan's Paris Fashion Week Debut: "Pretty Much a Fairytale"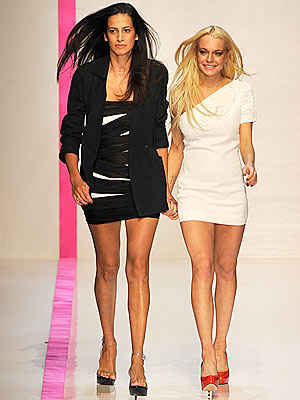 Guibbaud Christophe/Abaca
Moments after showing her first collection for Ungaro in Paris on Sunday afternoon, Lindsay Lohan and co-designer Estrella Archs stood together backstage, hugging each other warmly amid the chaos and congratulations at the Louvre showrooms. "I feel like it's pretty much a fairytale," Lohan, who signed on as the house's Artistic Advisor this summer, told PEOPLE. "It's certainly more than I could have ever imagined, more than I'd ever hoped for." Her voice absenting into hoarse whispers, she added, "I couldn't be happier. Seeing everything pulled together, is simply amazing." Holding tightly to Archs, a veteran Spanish designer, Lohan enthused, "the last five days have just been so crazy, chaotic. And this is just so amazing after working all night, this week in the office together until 1 a.m. and 3 p.m., seeing everything pull together." And the closeness of the designers is not just for show. "This is a fashion couple," Moufarrige told PEOPLE. "That's something which we haven't seen much in fashion and especially not women designing together." Leaning into a break from post-show television interviews, Lohan smiled warmly. "I feel so honored," she told PEOPLE. "I can't wait to be involved again, to be more involved on the next collections, to continue to please people, add more to the designs, to shock people…" While one fashion writer-attendee told PEOPLE that she thought the show was "very young and true to the spirit of Ungaro. It was a homerun," the official reviews were more of a mixed bag, with the International Herald Tribune's Suzie Menkes writing, "The Emanuel Ungaro show on Sunday may go down in history as the final gasp of celebrity madness" while L'EXPRESS cheered the clothing, "Dresses, sensually cut to the extreme, pants hugging the leg as closely as possible and the cloths dear to Ungaro putting into value an impeccable silhouette, shown off in fuchsia, blue, orange, white and black." –Peter Mikelbank
SEE THE WHOLE COLLECTION AT INSTYLE.COM!