Rachel Bilson on her Revolving Style: "I'm Constantly Trying New Things and Experimenting"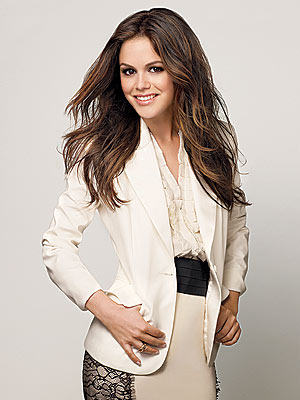 Courtesy of Lucky Magazine
Since her days on the O.C., Rachel Bilson's always-chic and on-trend street style has turned her into a bona fide fashionista. So what is it about the 28-year-old star's style that keeps us intrigued? "I'm constantly trying new things and experimenting, so I never really settle on one style," Rachel tells Lucky Magazine. "By the time I figure out how to define my look, I'm usually ready to move on to something else." And come fall, Rachel will be experimenting with one of the season's must-haves. "I'm excited about the great jackets with strong shoulders this season. It's a cool throwback to the '80s," says the November cover girl. Though Rachel is fond of an ever-changing wardrobe, she does have her favorites. "I'm a huge fan of Helmut Lang for everyday items that are comfortable, easy to throw on, and always look good," she says. Another one of Rachel's favorite designers is Brian Reyes. "[He] makes the most beautiful, feminine clothes. I'm always eager to see what he does next." And being the fashionista she is, the designer is sure to plant his superstar friend in his front row come New York Fashion Week. Lucky girl! Read more of Rachel's interview with Lucky where she dishes on her accessory philosophy and beauty picks at luckymag.com. And don't forget to pick up your November issue on newsstands October 6.
CLICK HERE TO SEE RACHEL'S LUCKY COVER AND ANOTHER IMAGE FROM THE SHOOT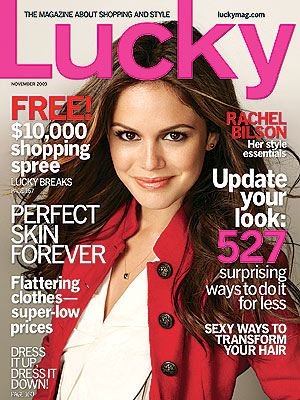 Courtesy of Lucky Magazine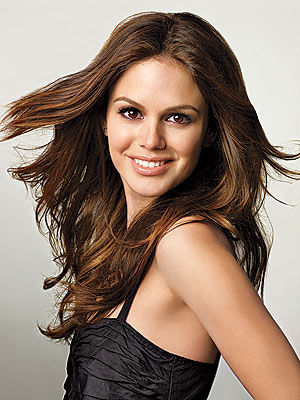 Courtesy of Lucky Magazine