Shakira On Her Accidental Fashion Faceoff: "You're Going to Wear a One-Of-A-Kind'"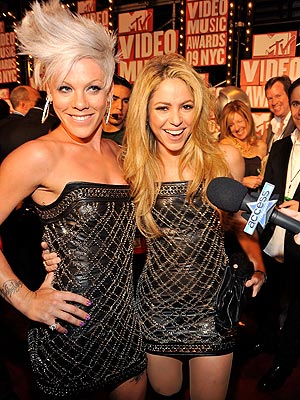 Kevin Mazur/Wireimage
After seeing double at the VMAs, Shakira took to the airwaves on 102.7 KIIS FM's On Air With Ryan Seacrest and talked about her real life fashion faceoff with Pink, in crystal-studded leather Balmain minidresses. "The funniest thing is that my stylist told me, 'You're going to wear a one-of-a-kind dress, nobody else in the world has it!' And I was like, well, you know, I like the dress I don't really care if anybody else has it or not — but how was I going to imagine that Pink had the same dress! Luckily I was on the red carpet first, so technically…" she jokes of her wore-it-first status. And Shakira discovered that her style competition took a similarly light-hearted attitude to the incident. "I approached Pink and I was like, 'Pink, look at us, look at us!' And she's like, 'oh my god, this is the funniest thing, get out of here!'" Click below to hear Shakira talk about the night. Tell us: Would you be able to laugh off a real life fashion faceoff as well as Shakira and Pink?