Entourage's Emmanuelle Chriqui's Fall Must-Have: Her $9 Blazer!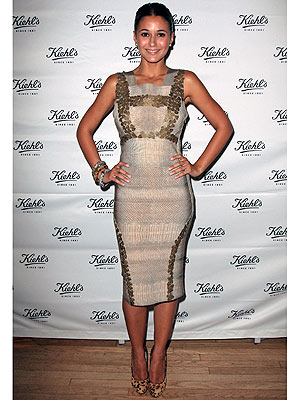 Krieger/Bauer-Griffin/span>
Glitz and glamour might be the go-to descriptions for New York Fashion Week, but for Entourage darling Emmanuelle Chriqui, it's cheap and chic that go hand in hand. "There's a blazer that I've been wearing and that I've been photographed in at least 10 times. It's my blazer of the season — and I bought it for just nine bucks!" Emmanuelle told PEOPLE at the Kiehl's Karnival event during Fashion's Night Out. "I have no ego about it, and I think it's great," she says. "I spend a lot of time on Melrose and La Brea in L.A.," she continues. "I love bargain-hunting and there are just so many awesome shops." The jet-setter is a little less enthusiastic, however, about traveling between New York and L.A., but all her coast-hopping has led her to discover the secret to staying comfort on the road. "I always travel with my bed pillow," she said. "And I bring an extra pillow case in my suitcase so as soon as I get off the plane I can change it. It's a little piece of home, and I travel a lot, so it's very necessary." Emmanuelle also tells us that she approaches her beauty routine with the same laid-back attitude: "Getting sleep, drinking lots of water, that's what works," she says. Click here to see where more stars partied on fashion's biggest night out, and be sure to follow us on Twitter at Twitter.com/StyleWatchMag for all the latest Tweets from the Fashion Week!