Heidi Montag's New Role: Bikini Designer!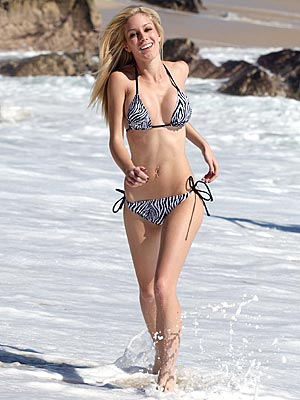 Pedro Andrade/Pacific Coast News
When it comes to fashion, Heidi Montag is proving to be her own best inspiration. For her first foray into design, the reality star teamed with affordable chain Anchor Blue for a sexy collection called Heidiwood, which has since stopped production. And now Heidi has partnered with celeb-favorite swimsuit designer Ashley Paige for a yet-to-be-named swimsuit collection that is being shown as early as next week! Heidi will debut six styles from the collaboration on I'm a Celebrity…Get Me Out of Here beginning June 1, which will be available immediately on AshleyPaige.com. The rest of the collection will be shown in an I Dream of Jeanie-themed runway show during Miami Fashion Week in July. Heidi herself will take to the runway to show off the '60s-inspired collection alongside blonde models showing off specially designed T-shirts that read "I Dream of Heidi". Heidi and Ashley's full collection will hit major department stores and budget stores as they have both a high-end luxury line and a lower priced point line planned so everyone can afford a Heidi and Ashley suit! Tell us: Will you buy a Heidi- and Ashley-designed bikini?