Mary-Kate Olsen Debuts Elizabeth and James Shoes -- On Her Feet!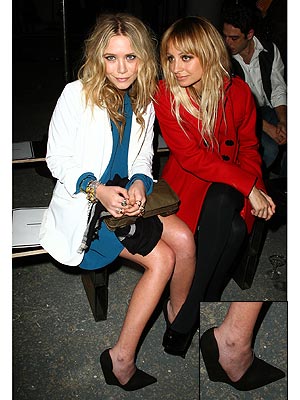 Andrew H. Walker/Getty
Mary-Kate Olsen might have taken a front row seat at Proenza Schouler to check out the designing duo's fall '09 line, but the star was also showing off something new of her and sister Ashley's own design: Elizabeth and James shoes! The pint-size designer coordinated her turquoise dress and white Elizabeth and James blazer with a pair of black suede wedge heels from the new Elizabeth and James shoe line due out this spring. Mary-Kate's pair are actually a prototype directly from the factory and is the line's take on an ankle bootie, but with a sexy cut-out to show more skin. Wonder what fellow front row-er Nicole Richie thought of Mary-Kate's design? Tell us: What do you think of Mary-Kate's heels?
Get all of PEOPLE.com's coverage of the stars and styles at Fashion Week by clicking here!