Shibuya Mon Amour Debuts at Forever 21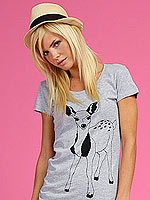 We love Jeannie Lee's fabulous taste and her glamorous L.A. boutique Satine, but for those of us without the star budgets, she's launched an ultra-cute T-shirt line called Shibuya Mon Amour. Sold exclusively at Forever 21, the line runs between $12-$15 with adorable graphics of owls, deer and kittens. We hear stars like Eva Mendes and Lindsay Lohan already have them in their closets.
Check it out at Forever21.com.