Taylor Swift & L.E.I. Team Up for an Affordable Dress Line -- $14 and Up!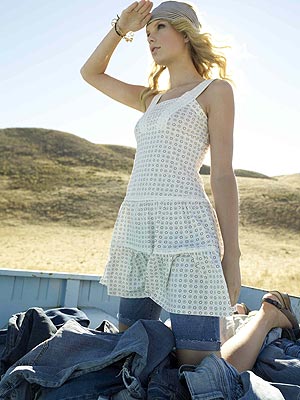 courtesy Peggy Sirota/L.E.I
As if selling millions of albums isn't enough, Taylor Swift has teamed up with teen favorite L.E.I. to produce a line of sundresses for Walmart. "I love dresses," Taylor tells PEOPLE. "And I have always had this dream to make an affordable sundress line." Taylor first teamed up with L.E.I. last year to star in their denim campaign, and now the Walmart brand will be releasing her dresses on February 1st. The singer, who will also star in the ads, looked to her own life for inspiration when it came to design. "I started brainstorming what I would wear this summer, on tour or hanging out at festivals when its hot outside," Taylor says. The result: a collection of lightweight jersey dresses in bold colors and girly prints for just $14. "I was totally adamant that I wanted [the dresses] to be affordable. With my headlining tour, we are offering $20 tickets everywhere we go and I wanted to approach the sundress line in the same way," says Taylor. "To have cute dresses under $20 is something I am really proud of." Though the star prefers more comfortable fashions, she does love designer gowns for the red carpet. "My absolute favorite is the dress that I wore to the CMAs this year. It was the Kaufman Franco glittery one," Taylor recalls of the dress that landed her on best dressed lists everywhere. "I love dresses that sparkle and that was the epitome of sparkly — it was like a walking mirror." Before gearing up for her tour, the singer will be hitting the Grammy Awards on February 6th and while she doesn't have her dress picked out yet, she does have a designer in mind, "It has always been my dream to wear an Oscar de la Renta gown. So someday in my life I will wear one." Oscar, are you listening? Tell us: Will you pick up one of Taylor's dresses?