Lindsay Lohan on Her Leggings Launch: "Really Exciting"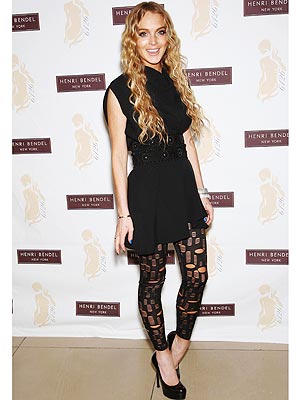 Marion Curtis/Startraks
Yesterday Lindsay Lohan blogged about the launch of her leggings line 6126 in New York, and PEOPLE caught up with the multi-tasking star at the after party for the Cinema Society and Dolce & Gabbana sponsored premiere of Filth and Wisdom at the Thompson LES hotel to hear how it all went. Lohan tells PEOPLE that "it was really exciting. It was at Henri Bendel's and they did an amazing job for us. We sold 700 leggings in an hour, more than I ever thought would ever happen." And Lohan is clearly pleased at her involvement in the line, telling PEOPLE "it was a really cool thing to be a part of and to know that I had a hand in designing the leggings." And the leggings launch wasn't the only exciting thing on Lohan's agenda while in New York. "I went to Madonna's show last night. Every time I see another show of hers she becomes a newer icon to me. She's timeless in a way that Marilyn Monroe was but was didn't get to fulfill." And considering that Monroe was the inspiration behind the name of Lohan's 6126 line, that may just be the ultimate compliment.