Which is Kate Hudson's Best Dress?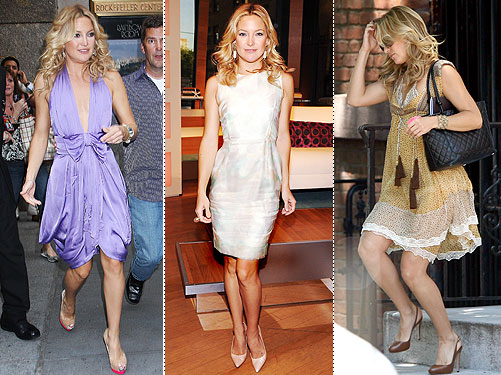 Demis Maryannakis/Splash News; Clark Samuels/Startraks; INF
As if Kate Hudson doesn't have a full enough schedule dating Lance Armstrong and filming Bride Wars in N.Y.C., she's also out promoting her new line of haircare with pal David Babaii. We spotted the busy blonde in no less than three gorgeous dresses yesterday! She started her morning in a stunning Stella McCartney sheath with Kara Ross jewels at the Early Show with a change into a patterned Bally dress with tassels in the afternoon. And she finished her night with Conan O'Brien in a plunging purple Jean Paul Gaultier dress and Christian Louboutin pumps. We can't decide which of her three beautiful dresses we like best so we want to know what you think! Tell us: Which of Kate's dresses do you like best? Her pale Stella McCartney sheath? Her patterned Bally trapeze? Or her plunging purple Jean Paul Gaultier?