Shop Carrie Bradshaw's SATC Wardrobe -- for Less!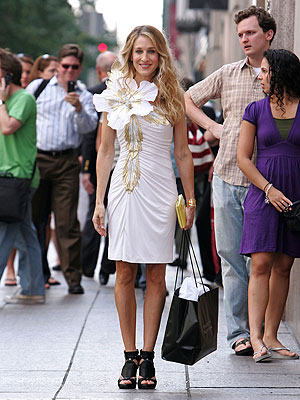 James Devaney/WireImage
By now most Sex and the City fans have seen the movie at least once, and still no one can stop talking about all the fabulous fashion. From Carrie's over-the-top Vivienne Westwood gown to her simple street style, our heads were spinning throughout the two-hour-plus film. Of course, all SJP's on-set style was couture — and well beyond our budget — but we definitely wouldn't mind finding it all for less. British shopping site asos.com was so sure Carrie fans everywhere would covet her big-screen wardrobe that they have recreated almost every look from head-to-toe — at budget-friendly prices. From her Burberry studded belt to her Dior sandals, it's all there. Take a virtual tour through her 5th Avenue penthouse closet and shop Carrie's most memorable looks — flower power dress anyone? — at asos.com's Sex and the City Shop. Tell us: Would you shop these knock-off Carrie looks? Which is your favorite?