Whose Baseball Style Is a Home Run? Posh vs. Mariah!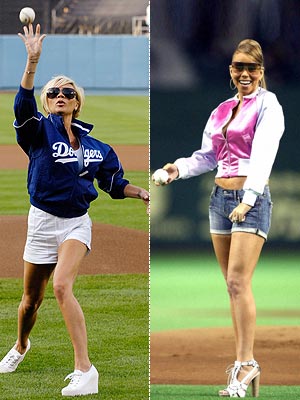 Chris Pizzello/Landov; Koichi Kamoshida/Getty
Two iconic singers known for their high heels and micro hemlines, but when it comes to throwing out the first pitch in style, who strikes out? Victoria Beckham memorably stepped up to the pitcher's mound at Dodgers Stadium last summer in short-shorts and Dries Van Noten wedge sneakers. And this week, Mariah Carey just may have one-upped her in platform heels, denim cut-offs and a tummy-baring satin jacket. While both women clearly spent more time picking their shoes than working on their curveball, we have to pick a winner in this instance — isn't that what sports is all about? Tell us: Whose baseball style do you like better? Posh or Mariah?